In our everyday life, we take chances all the time. We try a new brand of coffee or buy blue nail polish instead of the red. Some of us quit 9-5 jobs to start your own businesses. Others bring home the boy or girlfriend our parents will disapprove of, because he or she is the wrong religion, or the wrong sex.
But I'm talking about a different type of risk that I or my kids engaged in while in foreign lands. There were obvious and inherent dangers associated with our actions. The rewards, however, at least in my son, Brennan's case, were also potentially life affirming. In a minute I'll talk more about the bees.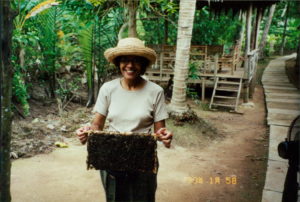 In Chapter 2 of THESE BOYS ARE KILLING ME, there's an email that Brennan sent from Luxor, Egypt. He started by saying he'd met two little kids at the bazaar who introduced him to a merchant named Yusuf. Brennan ended up hanging out with Yusuf and his friends. When Yusuf closed his booth, he invited Brennan to dinner at his house. Before I finished that long email I began to feel uneasy, but I kept reading. 
Brennan's wariness lessened as they took a ferry across the Nile to a village on the West Bank, where he got his first good look at ancient Egypt, including Thebes, once the capital of Egypt. The evening was spent listening to American albums—lots of reggae. Brennan said Yusuf's parents were gracious, his sisters beautiful, and dinner was home cooked, Middle Eastern and delicious. My son will forever remember that day he took a chance and was rewarded with the hospitality of an Egyptian, Muslim family.
At another time and place, I held the bee screen you see below because my usual, overly cautious persona eases up when I travel. When the beekeeper said the bees wouldn't sting me, I believed him. He was right. It felt good to take that risk. Maybe a little dumb, but also brave. I was proud of myself. Would such a one-time, kooky opportunity ever present itself again? I thought not. 
I took a chance, got closeup and personal with a hive of bees; saw their grace when hovering over a flower; realized that, from a distance, bees are kind of cute, and they are the only species that produces honey.