Although Alice Randall's Black Bottom Saints is not an epistolary novel, it read like a love letter to this famous black Detroit neighborhood. The narrator Ziggy Johnson is a dapper, African American man-about-town. He writes a weekly column for the Michigan Chronicle and emcees at a popular nightclub. But Ziggy's proudest endeavor is his School of the Theater for black youngsters.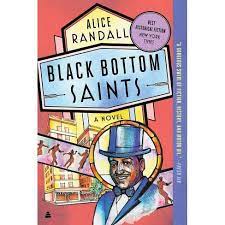 Ziggy tells his story in 1968 from a hospital bed as he lay dying from heart disease, yet this is anything but a sad tale. Each of the book's 52 chapters joyously celebrates one of Ziggy's "saints." Adding to the celebratory mood, the chapters all end with an elaborate cocktail recipe. Fittingly, one of Ziggy's saints is Thomas Bullock, the first black bartender to publish a book of cocktail recipes. 
The saints are many well known entertainers, artists, athletes and intellectuals who live, work or visit the area and add to its rich culture. But, like Bullock, by no means are all the saints well known. Ziggy has high praise for the working class, whom he labels bread winners—most often auto workers. They frequent Black Bottom's night clubs, bars, theaters, and it's their hard earned money that keeps Black Bottom humming. The book chronicles this vibrant black Detroit community from the Depression Era through the 1950s. Even sinners are not exempt from Ziggy praise because he sees beauty in all black people.
I enjoyed the book because it reminded me so much of Harlem in New York, where I grew up. Black Bottom's and Harlem's heydays overlapped. As a young child in the 1950s, I had the privilege of seeing many of Ziggy's saints. They were walking on Harlem streets, living around the corner, or I saw them when my step-father and I attended Thursday matinees at the Apollo Theater. And like Alice Randall, I too wrote a "love letter" to fabulous Harlem in my 2012 book, Sugar Hill Where the Sun Rose Over Harlem. https://www.amazon.com/s?k=sugar+hill+where+the+sun+rose+over+harlem&crid=1PNFD8XZN3G2&sprefix=Sugar+Hill+where%2Caps%2C177&ref=nb_sb_ss_fb_1_16_ts-doa-p
Besides the similarities to my experiences, Randall reveals tidbits about the saints that I previously didn't know. Moms Mabley, for example was a hilarious comedian, but she also recorded a 1969 hit song. Soulful jazz baritone, Billy Eckstine almost ruined his career, because he appeared in Life magazine kissing a white woman. LaVerne Baker, another jazz favorite with her big hit, Tweddly Dee, lived in the Philippines for 22 years. LaVerne also started in show business with the name Little Miss Sharecropper. According to Ziggy, Georgia Gibbs, another Apollo regular, stole all of LaVerne's songs. 
And finally, Ziggy's best piece of trivia concerns the singer whose voice I could listen to all night—my all time favorite diva, Dinah Washington. Would you believe the woman with the velvet voice was married to Dick " Night Train" Lane, a Hall of Fame football player and one of the most bruising NFLers of all time?  
Especially now, during this difficult time, Black Bottom Saints is a heavenly read.