In 2004, when President George W. Bush imposed fines up to $10,000 on Americans caught visiting Cuba, I was dismayed by our continued hardline approach to this neighboring country. I didn't understand the logic of being allowed to visit Vietnam, where unspeakable atrocities occurred and thousands of American and Vietnamese soldiers and civilians died in a bitter war. Yet, a 40 minute flight to Havana was a no-go.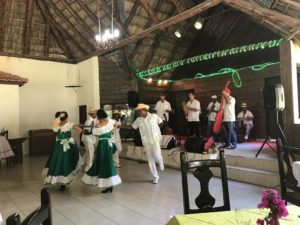 As a young girl, my curiosity about Cuba and Castro peaked when Fidel Castro visited Harlem. Also, at my school, New Lincoln, quite a few students came from well-off families who regularly vacationed in Cuba—until Castro's revolution ended that. My well-traveled school friends led me to believe anything was possible, and that someday, I too could visit countries like Cuba. 
 These memories came rushing back in 2004, as I stood in front of the concierge's desk at our hotel in Cancun, Mexico, where a sign advertised $99 roundtrip flights, with a one night stay in Havana, Cuba. On a whim, I doubled back upstairs to ask my two sons, Brennan and Colin, if either, or both, wanted to accompany me. I thought they'd jump at the chance to see their mother defy US law. They said no. One wanted to go scuba diving, and the other was going to a party with friends he'd met.  
Next, I ran this plan by Mike, my husband, who I knew would say "No," which of course he did, then added something like, "Are you out of your &#@%## mind, going to a Communist &#@%## country, where they can throw your ass in jail for just looking the wrong way at some two-bit party stooge?" I figured he was right, still I ignored the warning. But I didn't want to go alone and my only other option was to ask Henny, my son's 21-year old girlfriend. She jumped at the chance, so I arranged it, and we flew to Havana the next morning. 
We were issued visas on pieces of paper, no stamps in our US passports to alert US Customs to where we'd been. A waiting driver took us to the Plaza Hotel, in Old Town Havana. Once a stately structure, the hotel now badly needed repairs and updates. Our twin beds had clean, coarse cotton sheets, no bedspreads. Through louvered shutters we saw large A/C units behind the building. The bathroom fixtures were from the 1950s, and we had hand-sized towels. An old black and white TV was programmed for CNN; a privilege only afforded to foreign guests. 
After checking in, Henny and I walked around Obispo Street, people watching and admiring the French and Spanish Colonial architecture, some, but not all, in very bad shape. We popped into shops that had no lights on or merchandise to sell. Obviously, life was hard, money and food scarce. The government controlled everyone's life and finances, thus shopkeepers had little incentive to engage with tourists. That included the servers at the Italian place (staffed by Cubans) that our hotel recommended. The pizza was delicious, but the salad was gritty with unwashed dirt. When we left the restaurant, that's when Michel picked us up.
  To be continued…