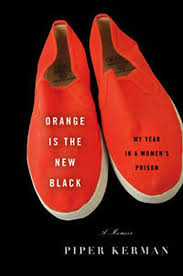 I almost didn't read this book because I'd heard the author, Piper Kerman, described as a stereotypical, mean rich girl who only cozies up to the unfortunates with whom she's incarcerated because she's a calculating narcissist bitch.
I totally did not detect that vibe. Sure, Kerman grew up in a well off family and we meet her shortly after she graduates from Smith College. However, for many 1990s college grads, even working class kids, life was good and jobs could be had. Such conditions are intended to make young people feel good about themselves.
Kerman, however, feels no urgency to get on the fast track. Instead of a 9-5, she finds an opportunity to travel to exotic ports. Rich or poor, when young people seek thrills, they occasionally do dumb things, and carrying drug money abroad for your girlfriend is high on the list of no-nos. Eventually, Kerman gets caught, convicted and sent to Danbury Prison.
Piper Kerman is not the only educated well-off inmate, but she is who she is: a voracious reader, an exerciser and a woman who understands the insidiousness of jailing so many underserved nonviolent female offenders, and the negative effect it has on them and their children.
Much of the book deals with daily tedium and the constant indignities of prison life. But, unlike what we might think (at least until this book came out), incarcerated women care deeply for each other and feel good about sharing what little they can. Kerman adjusts and makes friends. Her adaptability among some tough women, who can't wait for a cute, perky-nosed blonde like her to disrespect them, lends edginess to the book and makes you keep reading.
Readers also learn that conditions at Danbury Federal Correctional Facility aren't horrific like we might envision at Attica — New York's Maximum Security Federal Prison, or Angola, the notorious Louisiana state run hellhole James Lee Burke describes in his books. However, if any of us ever lands in a situation like Kerman's, may we adapt as well as she did.