Award Winning Author Honors But Also Admonishes Sons In Third Book
Posted: Jan 14, 2020 9:16 AM CST
"I believe if we all traveled and saw the beauty of the world and its people, it would expand our horizons and help to bring more peace into our lives and our world."
~Terry B Mulligan
The idea for "These Boys Are Killing Me Travels and Travails with Sons Who Take Risks" coalesced from e-mails the author saved when her sons, Brennan and Colin, backpacked around the world in 2001 and 2003. They traveled separately and without cellphones, through 34 countries on three continents.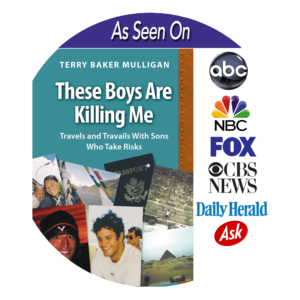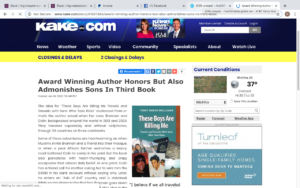 Some of these adventures are heartwarming, as when Muslims invite Brennan and a friend into their mosque, or when a poor African farmer welcomes a weary, road-battered Colin to camp in his yard. But the book also percolates with heart-thumping and crazy escapades that almost defy belief. At one point, Colin has a friend call his mother asking her to wire him the $3000 in his bank account without saying why. Later, he enters an "Axis of Evil" country and is detained. While scuba diving in the Red Sea, Brennan goes down 30 meters (98 feet) and runs out of air. He's also in the Middle East on September 11 and his family can't get in touch with him.
In "These Boys Are Killing Me," the battered mom of two grown boys proudly honors their fearlessness while often admonishing them for their haphazardly thought-out adventures. Terry shares about some of her own traveling adventures and her love and belief in the importance of travel throughout the book.
The love a mother has for her children runs deep, but Terry and her husband also believe in tough love, and in this book, she shares some instances when the two parents had to practice what they preached. Terry believes, "if we all traveled and saw more of the world it would expand our world view and in doing so, it would help to bring more peace into our lives and our world."
Terry Baker Mulligan's first two books: Sugar Hill—Where the Sun Rose Over Harlem and Afterlife in Harlem are available on Amazon and in bookstores. She is a double-winner of the 2013 Benjamin Franklin Award for Autobiographies/Memoirs and Multicultural writing. Terry was also awarded the 2012 Independent Publishers Award (IPPA) for Multicultural Adult Non-Fiction.
Link for even more sites your article was picked up on: https://tinyurl.com/Momandsons
• NBC:
https://www.wrcbtv.com/…/award-winning-author-honors-but-al…
https://www.wfmj.com/…/award-winning-author-honors-but-also…
• ABC:
http://www.kake.com/…/award-winning-author-honors-but-also-…
https://www.klkntv.com/…/award-winning-author-honors-but-al…
• Fox:
https://www.fox34.com/…/award-winning-author-honors-but-als…
• CBS
https://www.news9.com/…/award-winning-author-honors-but-als…
http://www.wboc.com/…/award-winning-author-honors-but-also-…
http://www.kake.com/story/41561384/award-winning-author-honors-but-also-admonishes-sons-in-third-book