During the two weeks that I joined my son Colin in Africa, we spent two days in Kruger National Park. Upon first arriving, we took a brief evening tour of the park, but the more complete and much anticipated safari tour of the 20,000 sq. km refuge (the size of the Netherlands) began the next morning, at 4:45 am, with Louie as our guide.
A former banker, Louie undertook this new line of work after Apartheid, when a black
man replaced him at the bank. The first thing I noticed was that our safari vehicle was open-sided; like totally open to the elements—and the animals.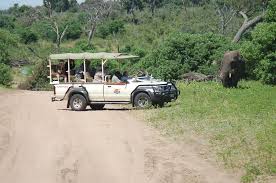 As for our safari, the best way to describe it is to say, if
you're able to, take your own African safari; words are inadequate. Face-to-face exposure to giant beasts, in their native habitat, is unlike anything in zoos. And to be honest, the underlying anxiety that comes with exploring in open-air vehicles adds to the thrill.
In Kruger, popular lore states that visitors should see "the magnificent six:" the lion, leopard, rhino, elephant, hippo, and cheetah. We never spotted a cheetah, but missing one elusive big cat paled in
comparison to the unexpected pleasure of observing dozens of gorgeous birds gracefully flying and strutting their stuff. Growing up, my bird exposure had been sadly limited to loathsome
aggressive pigeons. It took this trip to help me understand why people go gaga over bird watching, and that they travel to far away places like Kruger Park to indulge their passion.
That morning our safari in Africa, among the colors I spotted were bright yellow, royal blue, and aquamarine-colored birds; they came in large and baby sizes. Some were noisy, like the gray lourie, known as the "go-away" bird because of the sound it makes. Others had long lovely
tails or showgirl head feathers. I bought a bird book and proudly kept track of my sightings. Once back home, I purchased a hummingbird feeder for my backyard.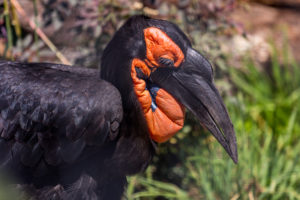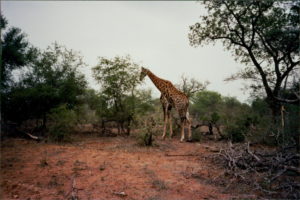 All this is not to minimize the animal kingdom's power brokers—
three curious elephants who momentarily blocked the road
while they checked us out; a lion pride, their faces and paws bloodied
from the kill, feeding on a giraffe; and the fantastic, prehistoric-
looking black rhino, that Louie warned was bad tempered and
more apt to charge than the less common white rhinos, or other
large beasts.