The opening premise for Catherine Ryan Hyde's novel, Take Me With You, quickly drew me into what I sensed was going to be a different kind of feel-good story. Early on, we meet August Shroeder, a science teacher whose teenage son Phillip has recently died. August is driving cross country to Yellowstone National Park to dispose of Phillip's ashes. He's still four states away when his truck, that's towing his beloved old camper, breaks down.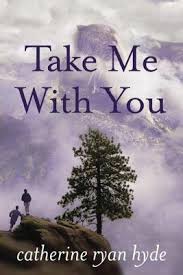 During the three days it will take to fix his truck, August camps on the property of the mechanic, Wes. While Wes works, the two men occasionally talk. August also observes the mechanic's two young sons, Seth and Henry, playing in the dusty yard. 
We discover that Wes is facing a 90 day jail term. Because of that )and other reasons), Wes concludes that August is an upstanding individual.  He then asks August to take his motherless sons with him to Yellowstone for the summer. By doing so, Wes explains, they won't have to go into the system with "strangers"—again.
I suspect that other readers, like me, take the bait and buy into Wes's proposition, despite the ill-conceived nature of his request. Thus, we follow the threesome on a summer road trip that varies from sappy, to contrived to delightful. Despite the sometimes engineered storyline, lessons are learned, America's might and magnificence is revealed and, three damaged souls achieve a measure of healing and renewal.